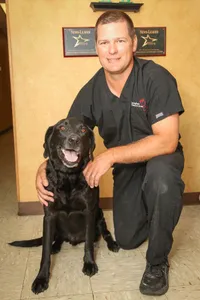 Heath Wiseman, DVM
Heath is a native of Bryant, SD. He attended Kansas State University for his undergraduate studies. Heath earned his Doctorate of Veterinary Medicine in 1999 from Iowa State University. Heath became PennHIP certified in 2001. PennHIP helps identify the potential for hip dysplasia as early as 16 weeks of age. Early detection of hip laxity allows lifestyle changes to be made which may slow the onset of arthritis. More surgical options are available for correction of hip dysplasia when identified at a young age.
Heath is the one only veterinarian in Springfield, MO who is certified in the PennHIP procedure.
Heath was an associate veterinarian in Rocky Mount, NC before establishing Springfield Veterinary Center in July 2003.
Other Interests:
- golf
- hunting


---
Cynthia Wiseman, DVM, CVA, CVFT, CTPEP, CVCH
Cynthia is an Independence, KS native. She earned her Bachelor of Science in Biology from Pittsburg State University in 1995 where she was also a four-year letter winner on the Gorilla Track & Field team and earned MIAA All-Academic team honors. She earned her Doctorate of Veterinary Medicine from Iowa State University in 1999. Cynthia was an associate veterinarian in Wilson, NC prior to moving to Springfield in 2003.
Dr. Cynthia's personal experience with acupuncture therapy led her to pursue advanced education in Veterinary Acupuncture. She earned her Certified Veterinary Acupuncture (CVA) through the International Veterinary Acupuncture Society and her Certified Veterinary Food Therapist (CVFT) from the Chi Institute in 2018. She enjoys using the integrative medicine approach to help our patients find balance both emotionally and physically.
Dr. Cynthia has also earned her TCVM Palliative and End of Life Care Certification (CTEP) in 2018 which helps her to provide more options to treat the clinical signs of disease and preserve a longer and better quality of life in pets struggling with aging, chronic and life-limiting disease. Additionally, Dr. Cynthia has earned her certification as a Chinese Veterinary Herbalist (CVCH).
Other Interests:
- competing in horse trials (eventing) and Combined Driving
- photography


---
The Wiseman Family
Heath and Cynthia met in veterinary school at Iowa State University. They moved to North Carolina following graduation in 1999, seeking a warmer climate and a change of pace. They enjoyed North Carolina, but missed the Midwest.
Heath and Cynthia chose Springfield, Missouri based on several factors. Springfield is a larger city without the large-city feel and is a short two hour drive from Cynthia's parents. Southwestern Missouri also offers many outdoor activities.
Trokey Animal Hospital provided the perfect opportunity to get established in Springfield. It provided a nice facility with an incredible staff and friendly, caring clients. Heath and Cynthia purchased Trokey Animal Hospital in July 2003 and re-named it Springfield Veterinary Center. In 2015, the business was relocated to a more spacious, new facility at 330 East Battlefield.
Heath and Cynthia extend their compassion and caring for animals into their own home. Their family has three dogs, two horses and two ponies.