Springfield Veterinary Center (SVC) was established in 2003 and moved to it's current location at 330 East Battlefield in April 2015.
Springfield Veterinary Center offers full-service companion animal veterinary care. The friendly, knowledgeable veterinarians and staff take the time to answer your questions and concerns. SVC believes in personal attention for you and your pet.
Visit SVC to see why we were voted Best Veterinarian by the readers of the Springfield News-Leader!
---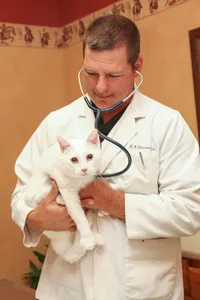 When you walk into Springfield Veterinary Center, you will see a glimpse at why we have been voted Best Veterinarian of the Ozarks for five consecutive years. Our facility evokes a warm, family feeling with soft, soothing tones. Springfield Veterinary Center is a nice balance of tidy, clean, hospital environment and cozy home. We frequently receive comments about the fresh smell with many clients stating "It doesn't smell like a veterinary clinic in here!".
Our veterinary hospital utilizes computerized medical records to ensure that your pet's complete medical history is available with just a click of a button.
It has been our experience that pets are more comfortable when examined in the owner's lap or when on the floor. The majority of the examinations can be performed without the aid of the table. Oftentimes, the doctor will sit on the exam room floor to help make your pet's visit a positive one. Our exam rooms are equipped with drop-down tables to offer the flexibility of having a table handy without taking up valuable floor space.
In addition to four examination rooms, Springfield Veterinary Center provides a Consultation and Bereavement Room with natural lighting, a comfortable sofa and home atmosphere. The room was designed to provide a private, peaceful area for families to visit their hospitalized pet or for grieving the loss of a family member.
Springfield Veterinary Center offers several in-house diagnostic tests. Heartworm tests, fecal examinations for intestinal parasites, ParvoVirus testing and urine analysis can be performed quickly while you wait. We also offer Complete Blood Counts, Serum Chemistry and radiographs (X-rays) in the clinic to help get the answers we need in order to help your pet sooner.
Springfield Veterinary Center is pleased to offer a sterile surgical suite equipped with gas anesthesia and ECG and Pulse-Oximetry anesthesia monitoring for your pet.
Our veterinarians perform many different types of surgeries including: spays, neuters, growth removal, declaws, abdominal exploratory, and orthopedic surgeries in addition to several other procedures. Our clinic is also equipped with endoscopy as well as an electrosurgical unit.
Springfield Veterinary Center offers prophylactic dental cleaning using an ultrasonic scaler to improve your pet's health.
Integrative veterinary care is available merging Traditional Chinese Veterinary Medicine (Eastern) with traditional Western medical care. Dr. Cynthia Wiseman is a Certified Veterinary Acupuncturist and Certified Veterinary Food Therapist. Acupuncture can be beneficial for chronic medical conditions, arthritis, neurologic weakness and pain. Learn more about veterinary acupuncture.