Exploratory Surgery for Sick and Injured Pets
When external examinations and diagnostic imaging fail to pinpoint the underlying cause or full extent of a physical problem, sick or injured pets may require exploratory surgery. These procedures allow veterinarians to see clearly inside various parts of the body and extract tissue samples for biopsy. Exploratory surgery can prove invaluable for gaining a detailed understanding of your pet's condition and choosing the best treatment option. Here at Springfield Veterinary Center we perform these procedures safely and accurately.
Diagnosing Lethargic Behavior, Vomiting, Diarrhea and Other Symptoms
Some forms of exploratory surgery involve foreign body removal from the digestive tract. If your dog or cat swallows something that cannot be digested, it may remain solid enough to block an intestine, causing acute vomiting (and occasionally diarrhea) while threatening the health of surrounding tissues. Foreign body removal often resolves the condition completely unless intestinal tissues have died or sustained damage, in which case we may need to remove that portion of tissue as well. In some cases food may be trapped inside the stomach due to gastric dilatation and volvulus (GDV), a potentially deadly twisting of the stomach that tends to afflict large dogs. If exploratory surgery confirms a diagnosis of GDV, we can manipulate the stomach to restore normal function.
Other types of organ dysfunction may also require exploratory surgery to get a clear diagnosis of the underlying problem. A lethargic cat suffering from vomiting and diarrhea, for instance, may have anything from heat stroke or a parasitic infestation to acute pancreatitis or kidney disease. After ruling out many common causes through fecal exams and other non-invasive procedures, we may need to perform exploratory surgery to examine and biopsy one or more major organs.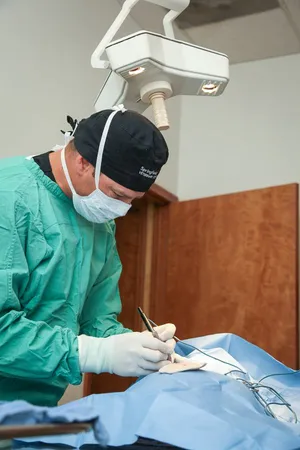 Exploratory surgery is a common and effective technique for identifying cancerous tumors, which can afflict pets just as commonly as people. An external mass underneath the skin, for example, may indicate the presence of either a benign tumor or a malignant skin cancer. In these cases we usually excise the entire mass and then take the biopsy from it -- if we find a malignancy, then there is a good chance that we have already administered the first step in the necessary treatment. If exploratory internal surgery reveals a more complicated mass, we will take biopsy samples and then recommend additional surgery or other treatment options as needed.
We conduct our exploratory surgeries with the same care and attention to your pet's well-being that we employ for major corrective surgeries. Our skilled veterinarian makes certain that general anesthetic is administered with consideration for the animal's health, size and age, monitoring vital signs with EKG machines, pulse-oximeters , blood pressure, respiratory, temperature and cardio-monitors. Following surgery, we will observe your pet's condition until he can safely return home. Owners receive detailed instructions on how to care for their recuperating pets at home. We encourage pet owners concerned about their beloved animals' symptoms to contact us for an evaluation.